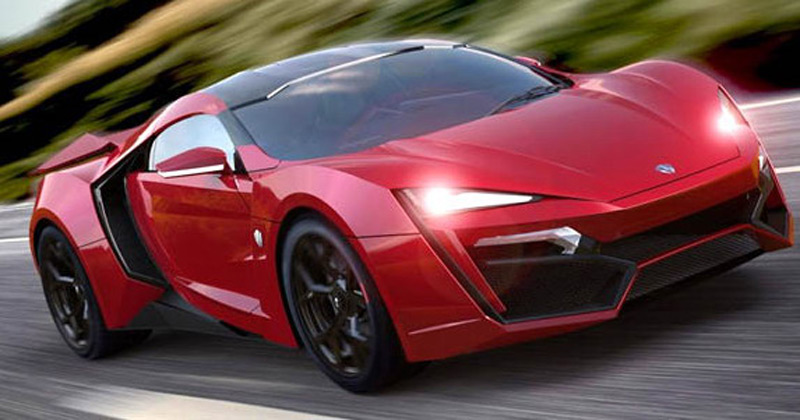 Lykan HyperSport by W Motors | Third Most Expensive Car Ever Made, With Diamonds In Headlights
The third most expensive car ever made, Lykan HyperSport was first unveiled at the International Dubai Motor Show in November 2013. At an insane $3.4 Million dollars, this car even has 15 carat diamonds in its headlights. Hypersport is even a million dollars more than the Bugatti Veyron, making it the single most expensive production car ever made. The only two cars more expensive are the Lamborghini Veneno, of which only four were ever made, and the Maybach Exelero, of which only one was ever made. However, these two cars are not production cars, which allows the Hypersport to take that title.

The Hypersport has a twin turbo flat-six 3.7-litre (3746 cc) engine made by Porsche. Diamonds aren't the only thing setting this car apart though. With a crazy 740 horsepower and 708 lb/ft of torque, this car will easily glue you into the back of your seat upon barely touching the acceleration. Slam on that pedal from a dead stop if you dare and watch the Hypersport rocket forward to 100kmh (0-62mph) in a mere 2.8 seconds. I say watch it because even though you're in the car, this thing will accelerate so fast it will blow you into another dimension and you'll have to watch it rocket forward from another dimension. Okay, I'm kidding on that one, but seriously, this thing is Fast!

It comes with stock 19″ ultra expensive wheels which I suspect are also ultra-light, although no specs on the stock wheels have been released yet. The smooth luxurious rich premium leather interior with ultra-modern displays spares no expense either. The body contains a lot of carbon fiber, which contributes to its insane speed. It even has suicide doors – that is, doors which open the opposite way, so don't open the door while driving or they will rip right off!

Since the Hypersport is a production model car, you will most likely be able to get your hands on one as long as you have a cool $3.5 million cash. Sure, you could take out a loan, but when you're buying a car with diamonds in the headlights you probably have the cash!
Lykan HyperSport by W Motors | Third Most Expensive Car Ever Made, With Diamonds In Headlights Photos
Share this:
Welcome my friend, Helper Cat says you need to register for that! :)