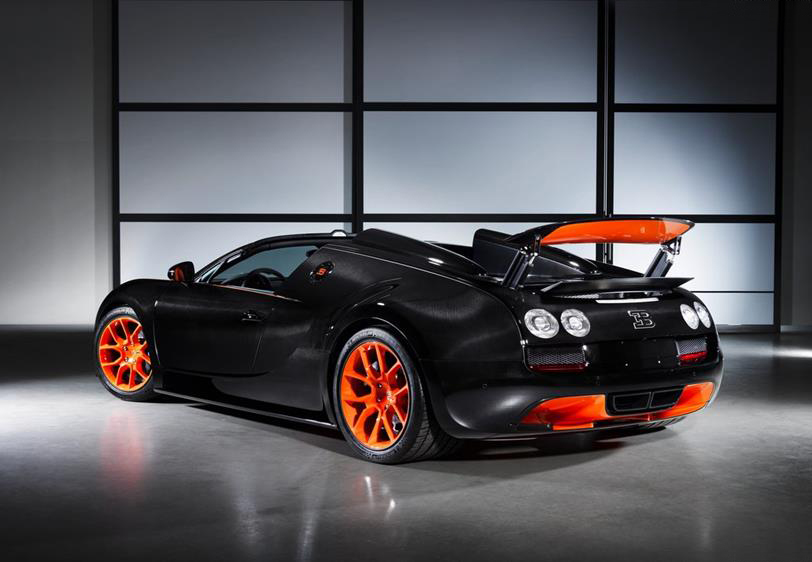 Bugatti Veyron 16.4 Super Sport | Ultra-Fast And Expensive Supercar
You don't buy this car for its beauty. Although some may like the style, the Bugatti Veyron is known for its raw power. Hardly aerodynamic, more of a giant brick in terms of wind drag reduction, that isn't needed because the Bugatti Veyron powers through it racing even jetfighters (although it lost of course).
This insanely fast and ultra-powerful world-renown supercar with its highly muscular frame pushes out a massive 1001 bhp @ 6000 rpm and 922 lb-ft @ 2200 rpm. It has a 7-speed DSG sequential manual transmission with automatic shifting, and a curb weight of over two tons – 4,300 pounds. It does a quarter mile in just 10.8 seconds and a 0-60 time of only 2.9 seconds, one of the fastest in its class.
Before the
Lykan Hypersport
the Bugatti Veyron used to hold the title for the most expensive production car ever made. Now it has taken second place, but it's still not exactly a walk in the park, at over 1.2 Million dollars.The Veyron's all-gasoline massive engine takes its toll on gas mileage getting just 7mpg in the urban sprawl and 10 in the country, but that's shouldn't matter when you're forking over 1 million smackeroonies for it.
You'll probably be more worried about a fly nicking the paint job than how much mpg you're getting, because you probably plan on hitting the gas station a few times a day. Ok ok not really but this thing is a massive gas guzzler! But who cares when you have a quad-turbocharged and intercooled DOHC 64-valve W-16, aluminum block and heads, direct fuel injection, and over 1000 bhp for the 2016 model!
Bugatti Veyron 16.4 Super Sport | Ultra-Fast And Expensive Supercar Photos
Share this:
Welcome my friend, Helper Cat says you need to register for that! :)