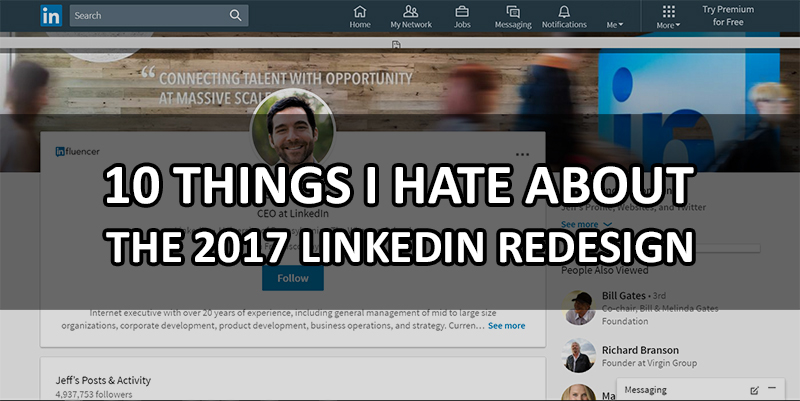 Just when I was finally starting to really use LinkedIn, they have destroyed it. It is a popular trend nowadays for websites to completely obliterate their website and ruin it against the wishes of over 95% of their userbase.
LinkedIn has followed in this tradition, destroying their website. Just when I was starting to finally like LinkedIn, they have completely ruined it, and I will not be using LinkedIn anymore due to this terrible UI redesign.
It's probable that a lot more people started using LinkedIn recently, because like me, people had finally gotten used to the layout and design. Then some morons over at LinkedIn decided, "hey, a lot more people are using it. Let's make it better!" And then made it 100 times worse.
Is their redesign terrible from an aesthetic perspective? It is not terrible in that regard. Not great but not terrible. Not even really good, but not horrendous from an aesthetic standpoint. Where it is absolutely horrendous is its User Experience, or UX for short.
Yes, the new design looks a bit more modern. That is not why it sucks. Why is sucks is because they changed everything, and degraded almost everything, and generally ruined the whole site.
Here are the top 10 things I absolutely hate about the new LinkedIn redesign, and why the new redesign sucks more than a garden hose hooked up to a vacuum cleaner on a windy day.
---
10
Publications and Projects are hidden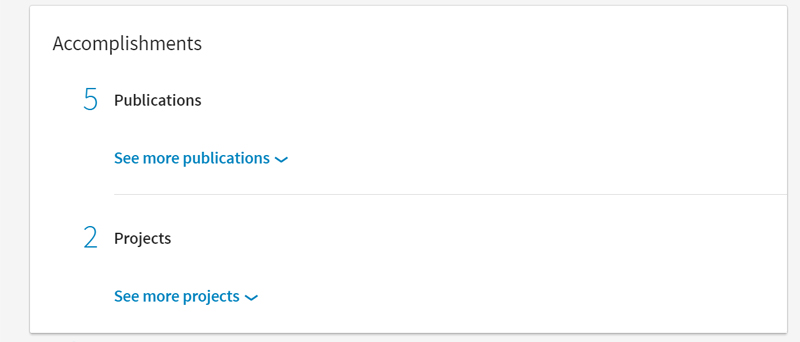 Why It's Terrible
Only one project is visible. Before, all your projects were visible. Now you have to click again, on "See more projects", to expand it. It is also too wide causing a LOT of unwanted empty white space which could have been used by actually useful information.
Worse, before your whole list of publications was also visible. Now however none are visible! You have to click to see them! Also it is full-width instead of two columns, causing a great deal of empty white space and taking up screen real estate for nothing. This makes it very difficult to view things at a glance or easily check out a connection's latest project, publication, or article.
---
9
Groups are hidden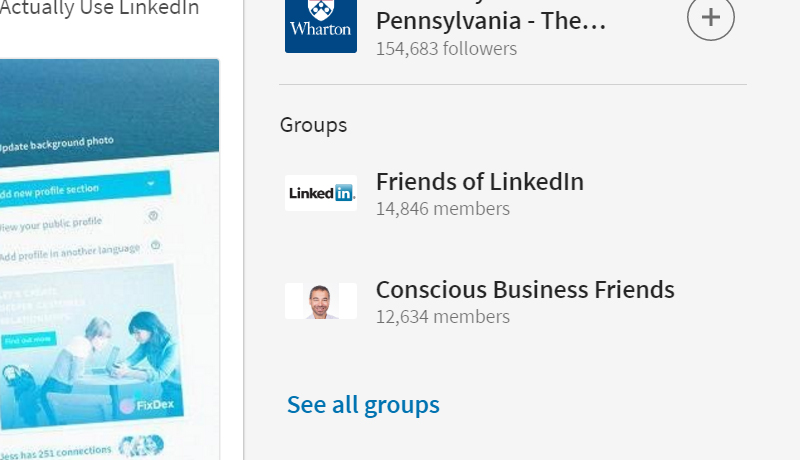 Why It's Terrible
Before, there was a groups section. You could click the "more" and it would expand it. Now, no more groups sections. If you click the people you are following "view more", it opens a new windows where you can scroll down to the bottom to view your groups. Awful. Also, only 3 groups are visible, to see the rest you have to click and open a
third
window! Absurd.
---
8
Sticky top menu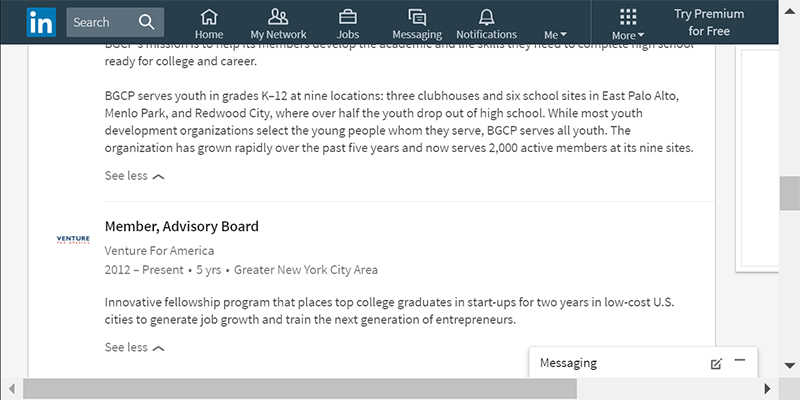 Why It's Terrible
First, I hate the top menu. But more importantly I hate that it sticks to the top as I scroll, decreasing the size of the window. If it was a thin bar that might be ok but it is a thick bar and obtrusive, with no way to hide it. It is covering up info that I want to see, which is made worse by the fact that there is far too much white space with this awful redesign meaning you can't view much on the screen.
---
7
500+ is too tiny, missing, hidden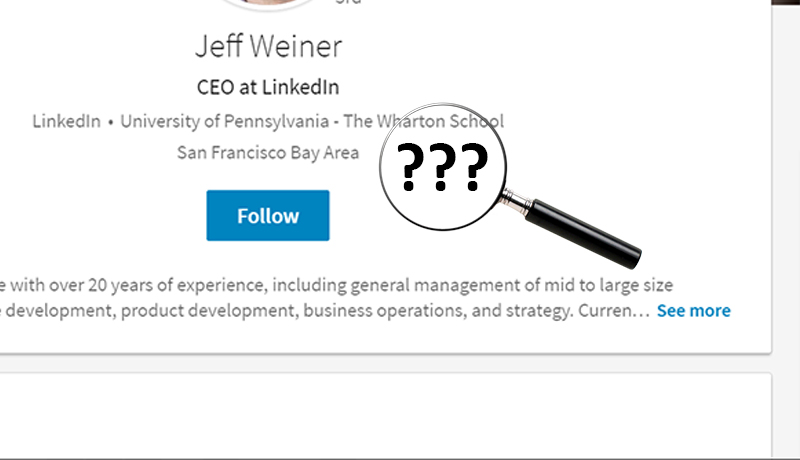 Why It's Terrible
Before it was easy to see right away if a user had like 5 connections or a lot or 500+. Now it is in tiny text and you have to scan through their info to find it. Before, it was a selling point. Now, it is a moot point. Terrible.
It is also completely missing from certain profiles, and hidden to the far right for connections, making it impossible to find at a glance and destroying credibility that you had from having 500+ connections.
---
6
Honors and awards are hidden, certifications are hidden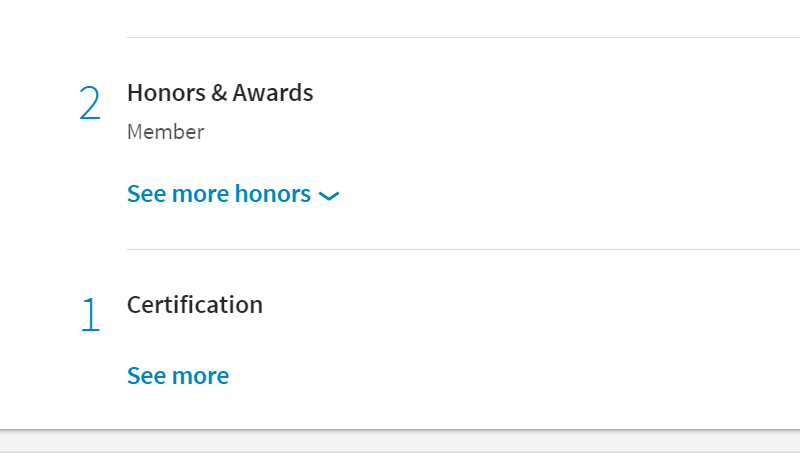 Why It's Terrible
Before, your honors and awards and certifications were not hidden. Now you can't even see them at all unless you expand it. Moreover, it is full-width and one column instead of two, dramatically increasing the page length as well as dramatically decreasing the amount of information you can view at a glance. Same problem with certifications.
---
5
It is not responsive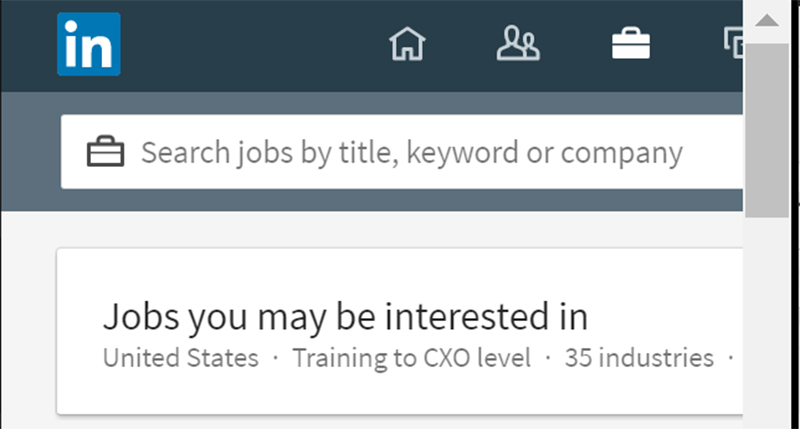 Why It's Terrible
I didn't care about responsive, mobile-friendly layout on the old site, but if they are going to force a completely new completely unwanted redesign on all their users, at least make it responsive so that if I resize the browser window half the items don't run off the page!
---
4
Less recommendations visible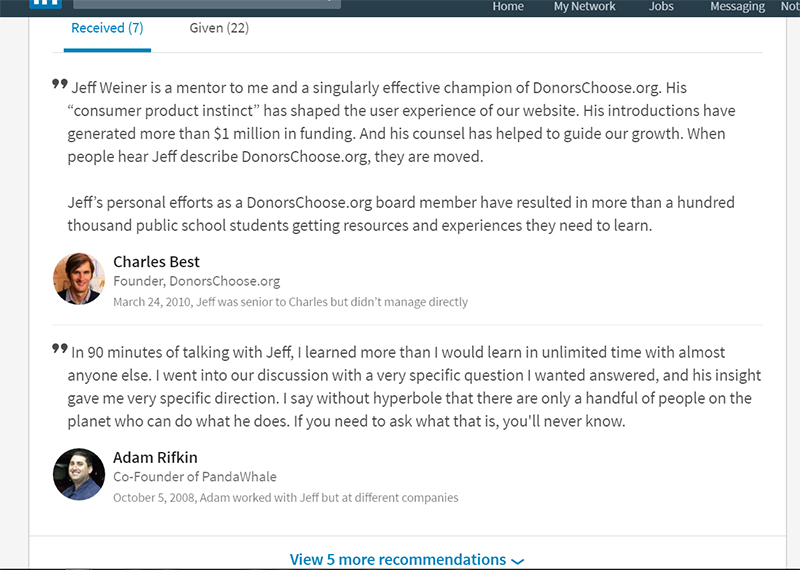 Why It's Terrible
Before there were at least four recommendations visible. Now there are just two. They all take up full-width instead of half-width like before, which makes the page much bigger and more difficult to read at a glance without scrolling and scrolling and scrolling. Total crap.
---
3
Giant profile section, tiny picture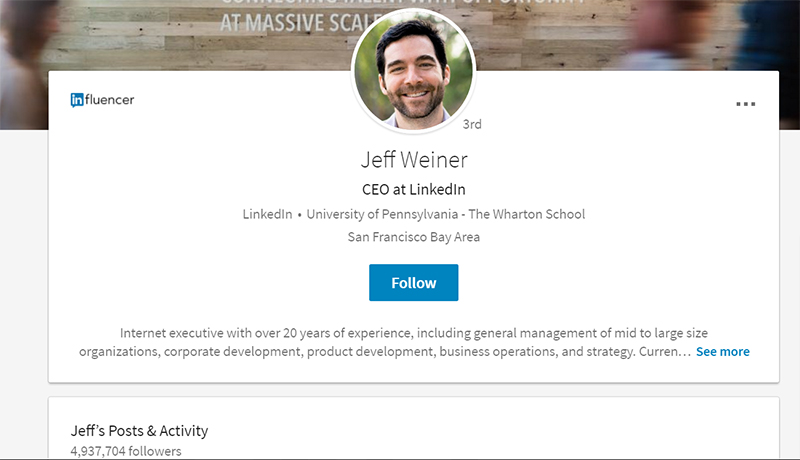 Why It's Terrible
The profile details, 80% of which is just empty white space, takes up basically the whole page. Why? Why would you do this LinkedIn? Where did your designers go to design school? What the heck is wrong with you?
Also, the profile picture is not only tiny, but also an ugly circle, hiding half of the picture. Completely unprofessional, and ruins the professionalism of the millions of people who made their profile image based on a square. Look at all that white space!
It would have been much better for the picture to be big, on the left, a square. Like before. That would solve the white space problem. But no, LinkedIn has to ruin it.
---
2
New "Network" section and connections section sucks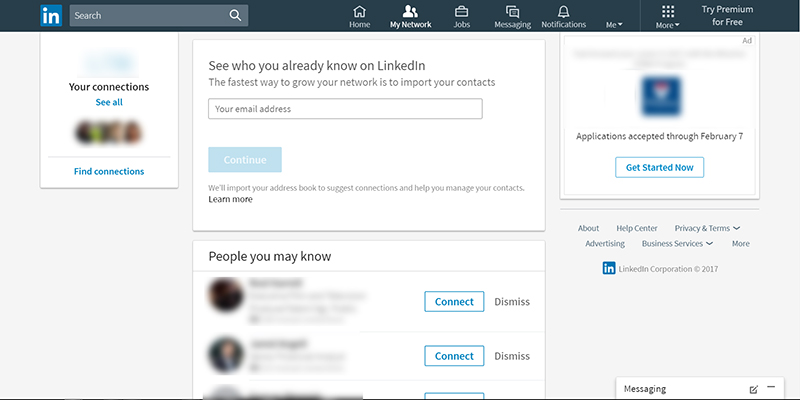 Why It's Terrible
The previous redesign sucked too, but at least the big images made it easy to see who you were connecting with. Now with the tiny profile image circles, all in one column as well, this makes for a terrible user experience. I was only just getting used the the previous crappy redesign, and now they have made it even worse.
---
1
They ruined the Skills section

Why It's Terrible
Probably the only reason anyone really logs into LinkedIn most of the time, the only real fun thing about the site, is checking to see how many more people endorsed your skills. You are trying to get 99+ on all of them! Before, like 10 or so showed and the rest in an easy dropdown that expanded. Now however only 3 show!
Even worse, they hid all the user pictures! Total crap! I am ticked off about this. Before there were a bunch of user pictures that really lended to the credibility of your profile if you have at least 20 so that all the pictures were filled. You can click the thing and it gives a popup of all the users who endorsed, but that doesn't make up for the fact they hid the user pictures of the first 20 people!
Now the skills section no longer makes your profile look more credible even if you do have 99+ on all of them. Totally worthless, this just ruined the only great thing about LinkedIn.
---
There are not the only things I hate about the new LinkedIn redesign, they are just the top 10 things I hate about the new LinkedIn redesign. I also hate many other things about the new unwanted LinkedIn redesign.
I predict that LinkedIn will be used far less now. There may be a temporary increase due to the publicity that they have paid for, such as the paid sponsored post on Wall Street Journal which is a fake promotional advertisement and not a genuine opinion, as well as all the other "news" articles that LinkedIn paid for the sponsored content.
Basically, a lot of people might sign up due to the publicity surrounding the awful redesign. But they probably won't continue using due to the terrible user experience, and current users are likely to drop off very quickly and use other networking tools instead.
So while the publicity may gain some short-term increases in users and signups, in the long run this is going to be severely detrimental for LinkedIn and is probably going to result in the company dying just like what happened to Facebook when they forced the unwanted timeline update on everyone.
It seems that no one will learn. I guess just stop using all web tools because they are all going to be eventually ruined anyway.
What do you think about the new awful LinkedIn redesign? Do you like it? Do you hate it? Leave a comment with your thoughts.
Share this:
Welcome my friend, Helper Cat says you need to register for that! :)