Craigslist got a major update today, that now allows you to hide listings from the search and automatically hides posts you have flagged, with the option to undo the hiding of the post if desired. This is a great feature update, so it's too bad it hasn't been publicized so more people could know about it.
When you flag a post on craigslist, now the listing that you flagged will be hidden with a notification in the bottom right that allows you to show the posts that have been hidden.

Additionally, it also allows you to hide individual posts by clicking a small "X" next to each listing in the listings page.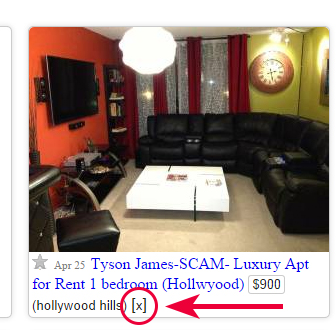 So now when you search through craigslist, posts you don't want to see and posts that you have flagged will no longer display in the search results, making it easier for you to browse listings.
The feature seems to be available for both logged-in users and users who are not logged in and do not have an account. However, it's probable that if you have an account it will save your hidden posts so that you won't see the posts you don't want to see even after you clear your browser cache or close your browser.
On a side note, there is a small bug in the new feature that makes it so that if the post title is too long, you won't be able to see the "x" button when in "Gallery" mode. Until they fix this issue, you can hide the post by switching to "List" or "Thumb" mode in the top left of the page.

Share this:
Welcome my friend, Helper Cat says you need to register for that! :)