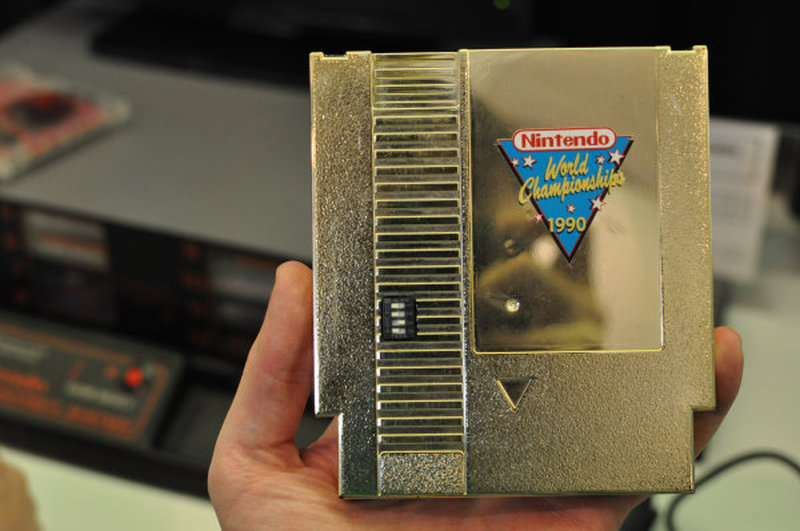 While Nintendo fans were probably disappointed to learn that the Japanese gaming giant wouldn't be making any official announcements at this years E3 convention, they will be happy to hear that the gaming company has decided to host a Nintendo World Championship Tournament at the event instead. This marks only the second time in 25 years that a tournament of this magnitude has even taken place!
The tournament was a popular entity back in 1990's and was inspired by the movie, The Wizard. The movie climax consisted of a multi round styled tournament and also featured advertisements for Super Mario Brothers 3. The tournament toured around the United States and offered contestants a slew of great prizes. The tournament also offered select Nintendo Power readers one of the gold cartridge games that were used in the actual tournament. Even today, these cartridges are considered one of the most prestigious prizes in gaming.
The tournament consisted of short rounds of Super Mario, Rad Racer and Tetris. After the player completes all three games, the score is then multiplied and tallied as a final score. While the games for this years E3 tournament have yet to be announced, the game will retain its multi round format and will be broadcast live over the internet for the entire world to see! Players will also be able to visit specific Best Buy locations to compete in a special qualification tournament, that will then enter you into the main tournament at E3.
Since I personally grew up with The PS1 and didn't start playing games until the late 1990's and early 2000's, I never really had an interest in The Nintendo World Championship as a kid. With that being said, I think it will be an exciting treat for video game fans at E3 to play in the tournament live on the web, especially if the tournament consists of popular new titles in Nintendo's library. Here's hoping the tournament includes Super Smash Bro's Brawl, Mario Kart and Legend Of Zelda: Hyrule Warriors.
What do you think of the return of The Nintendo World Championships Tournament? Will you try to qualify for the event at E3? What game are you most looking forward to seeing played at the tournament? Let us know in the comments below!
Share this:
Welcome my friend, Helper Cat says you need to register for that! :)