Why are there no high-performance 7" tablets on the market today? Why is the 7" tablet a better tablet size, and why aren't manufacturers making any?
It's been nearly a decade since manufacturers developed 7-inch flagship tablets. If you look around the world, you can find a few new 7″ tablets, but all of them are budget models with limited features, low memory and ram, and simply cannot compete with modern smartphones.
Ever since around 2015, manufacturers bumped the minimum size for a tablet to 8-9 inches, but these are base, entry-level tablets lacking features like high resolution, high refresh rate, OLED, micro sd, more than a couple GB of ram, etc. Most new tablets with these features are coming in huge sizes, from 9 to 13 inches (the size of an actual laptop), which have some merit, but also lack the benefits of a 7-inch tablet.
Why a 7-inch tablet?
7 inches is the absolute best size to combine portability with the larger screen size. These tablets can even be held in one hand by many, something that the larger, heavier tablets cannot accommodate. Weight is also a major factor, because the larger tablets produced today are usually several times heavier than a typical smartphone. And while being as portable as a smartphone if you have paper-thin bezels, 7 inch tablets provide the best reading experience, which is the primary use of a smartphone.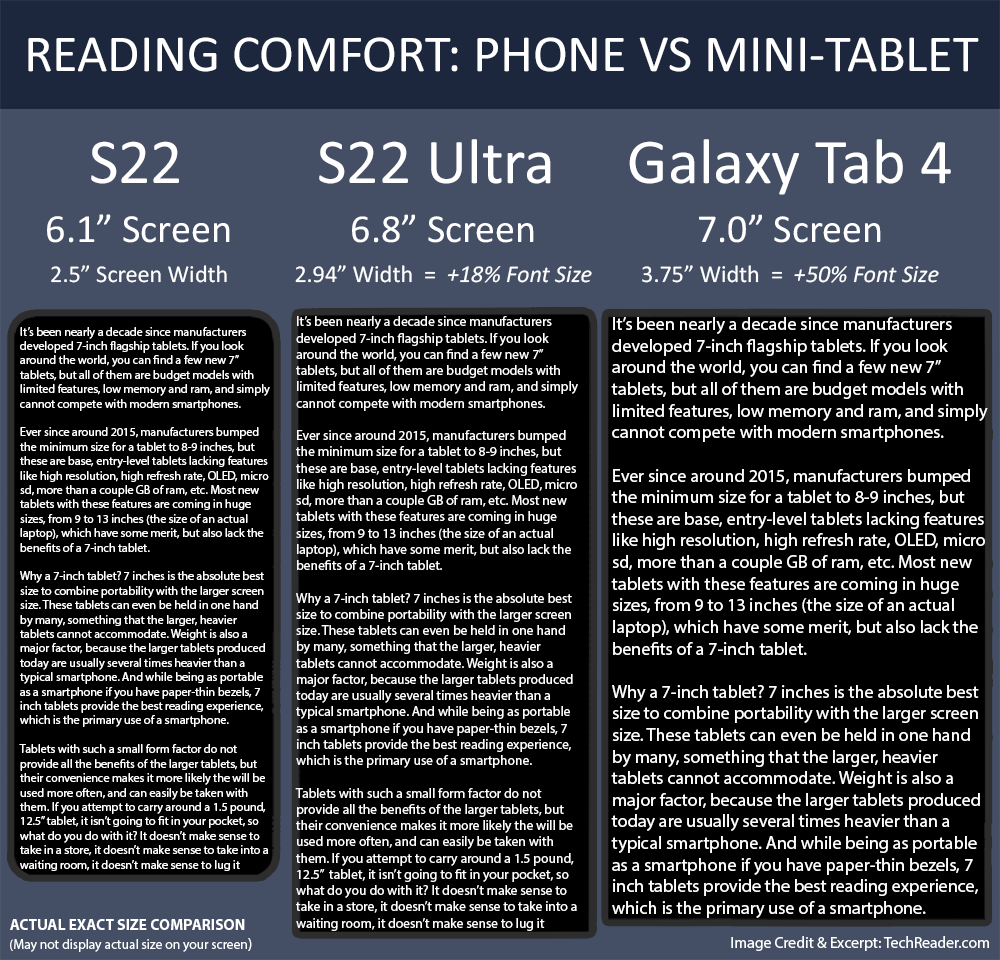 Actual Screen Size Comparison. Credit to PhoneArena for helping us to get exact sizes.
(Click to open image in actual size)
Pictured above is a comparison between the actual screen size of the displays for the S22, S22 Ultra, and the older Galaxy Tab 4. As shown, despite the Tab 4 being nearly the same diagonal size screen as the S22 Ultra, the Tab 4 is dramatically more comfortable to read. This is because the 3.75″ horizontal width of the Tab 4 provides the ability to have 50% larger text when compared to most modern smartphones. This makes a big difference in the reading experience. Wider tablets may be even better, but they lack to portability. This makes the 7″ tablet display in the Tab 4's form factor the optimal device for a portable reading experience.
Tablets with such a small form factor do not provide all the benefits of the larger tablets, but their convenience makes it more likely they will be used more often, and can easily be taken with them. If you attempt to carry around a 1.5 pound, 12.5″ tablet, it isn't going to fit in your pocket, so what do you do with it? It doesn't make sense to take in a store, it doesn't make sense to take into a waiting room, it doesn't make sense to lug it around while shopping.
With a smaller form factor of around 7-8″, however, these tablets can easily fit in standard jeans pockets just like a smartphone, and are not a burden to carry around. They can be as lightweight as a smartphone, and even more powerful with the same weight. But no one is making them – besides one manufacturer, Apple.
A modern mini-tablet: iPad Mini 6
The iPad Mini is such a device. It is the only mini form factor flagship tablet on the market today, and it's the only flagship tablet of this form factor with anywhere near today's technology that has ever been created. Still, at 8.3 inches and quite wide, it is not as small as is needed to have the ultraportability that makes a mini tablet practical over a larger tablet.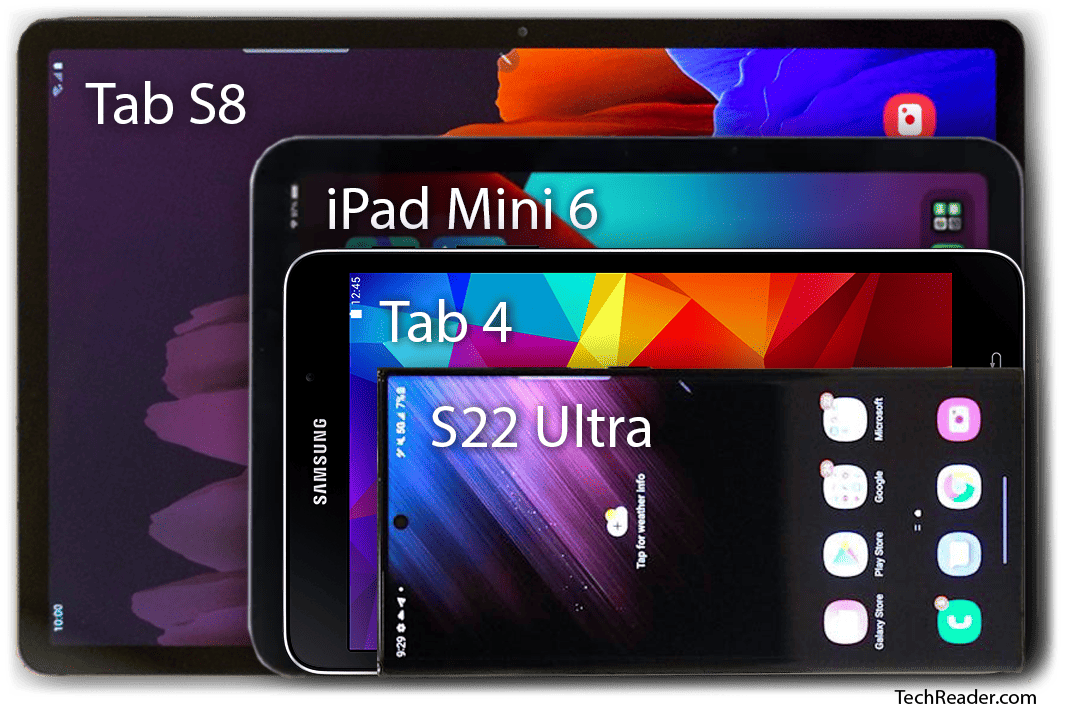 In the Galaxy Tab lineup in 2022, the Tab S8 is the smallest flagship tablet produced by Samsung. And it's massive at 11″, almost the size of an actual laptop. As shown above, it's massively bigger than other smaller tablets and bigger smartphones. The S8+ and S8 Ultra are even larger, at 12.4″ and 14.6″, respectively. Those are the sizes of actual laptops, and the S8 ultra is even bigger than the average laptop.
Why no modern 7 inch tablets?
So, what's stopping manufacturers from producing proper flagship, high-performance OLED tablets in a mini form factor that is nearly as portable as a smartphone?
There are likely a couple of reasons, and neither of them is good for the consumer. First, smartphones are getting big. Very big. Many smartphones are pushing 7″. Unfortauntely, that is definitely not a replacement for mini tablets, and here's why: they are not wide enough.
The problem with huge smartphones is they provide virtually no reading benefit over smaller smartphones. Why? The comfort of reading on a smartphone, besides the quality of the screen (high-res, OLED, etc) comes with the size of the text. Gigantic 6.7″+ size smartphones, oddly enough, provide almost zero benefit in allowing larger text size, because there is no additional horizontal screen real estate. All it does it extend the screen vertically, which has almost no benefit – not for videos, not for text size, not for anything – except perhaps gaming.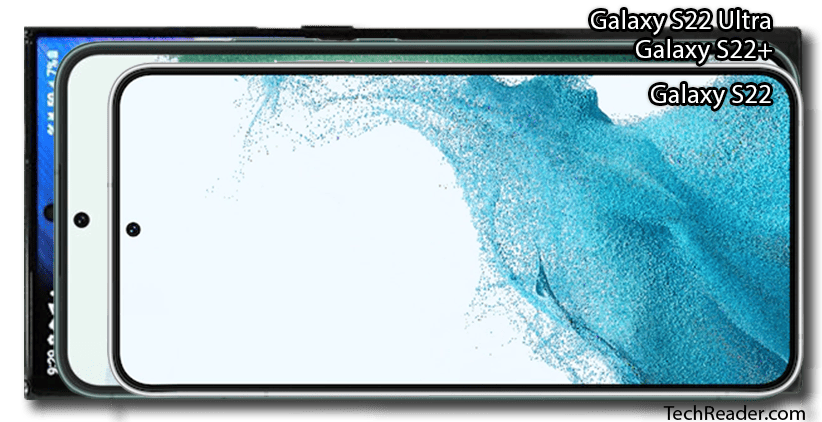 For example, the Galaxy S22 Ultra, which is the largest of the lineup with a huge 6.8″ screen, has almost the same screen width as the S22, which is the smaller of the Galaxy lineup with only a 6.1″ screen. The extra inch in screen real estate is almost entirely vertical, destroying the benefit of the larger device. Because of this, the S22 Ultra still feels like a phone, instead of a tablet.
Phones and phablets are too narrow
After researching extensively, I found this to be true on virtually every single smartphone out there. All of them put a hard limit of the width, and if the screen is bigger, it just gets bigger vertically. That's great for people who want a phone and have small hands, but it doesn't provide much of any additional benefit over the smaller version. The only real difference for practical purposes is that the device is quite a bit heavier, often requiring two-handed use anyway. Anything more than 170 grams becomes a bit too heavy to hold in one hand for any length of time.
There is one exception. The largest smartphone in width in existence in 2022 is the Huawei Mate 20 X. With a 7.2″ display, which is considerably wider than the S22 Ultra, while not being any heavier, and with up to 256GB internal memory, and with expandable storage, and 6 or 8GB of RAM, this device is the closest hybrid to a flagship phone and a tablet to ever be created.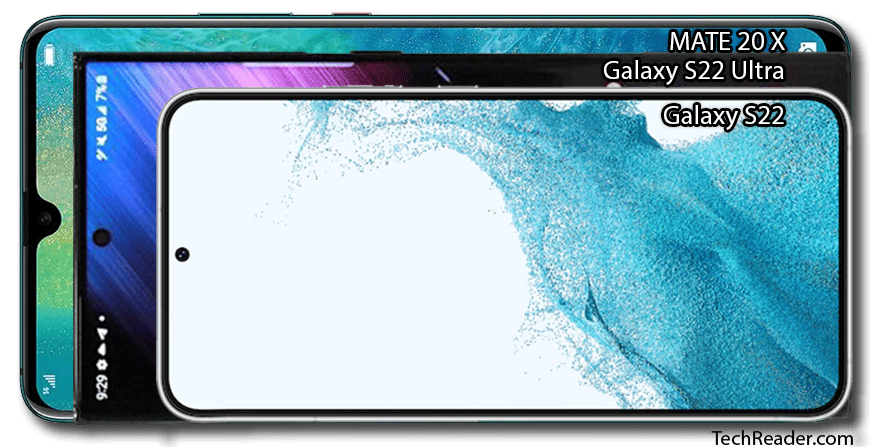 But the Mate 20 X was released a few years ago, and is starting to become dated. It doesn't have microSD, just the proprietary NM card from Huawei, which only goes to 256GB as of this writing. And it has a notch. It does have OLED, but the lower-resolution 1080p screen leaves much to be desired. On top of all this, the device is very rare and hard to find, and it can't be rooted beyond Android 9.0. Which means you can't use new software on it if you want to root it. And new Huawei devices will never again support rooting (since Huawei decided to lock the bootloaders permanently), which means that future Huawei devices are dead as far as rooting is concerned.
Practical research: trying them out
In my own quest for a replacement for the Galaxy Tab 4 of almost a decade ago, which I found to be the most convenient tablet I ever owned, I bought the above devices. I bought a Galaxy S20 Plus, to only find that the screen was no wider and therefore no more comfortable than my V30S, despite being larger. I bought the Huawei Mate 20 X, which I have right next to me right now.
The Mate 20 X is definitely the most comfortable smartphone to read on in existence. Although, not as comfortable as if it were just a little bit wider. It's not too heavy, either. The major downsides are the lower resolution screen, and the fact that it cannot be rooted beyond Android 9.0. I am conflicted about whether to keep it.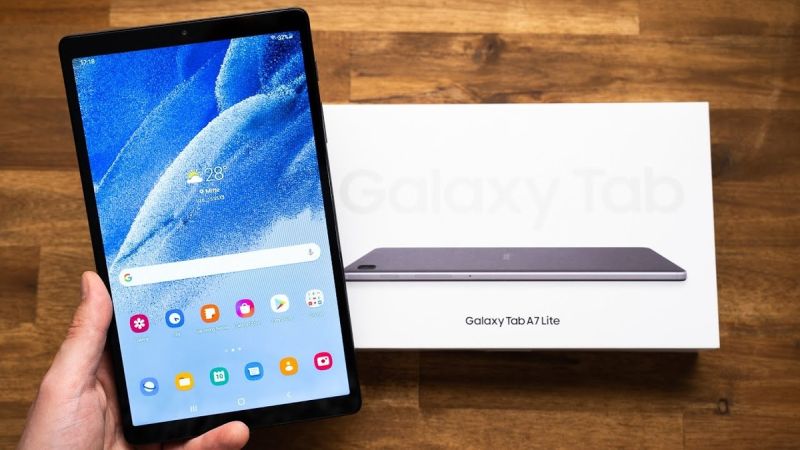 Tab A7 Lite. Source: TDG
Then I researched the tablet market and started buying the best small tablets I could find. I bought the best smaller new Android tablet on the market in 2022, the Galaxy Tab A7 Lite, in the highest-end model, which is 128GB internal with 3GB of RAM. I rooted it, and tried it out. It is the best performance mini tablet on the market besides the iPad Mini 6, and the Tab A7 Lite even has a microSD slot. While it's a great device, it has many limitations.
Unfortunately, the entry-level processor, mere 3GB of RAM, and hefty size of it conpared to smaller tablets of times past, left much to be desired. But most importantly, the lack of OLED is the biggest reason why I am not happy with the device. No modern tablet or smartphone should be using an IPS or other non-OLED display.
Shown below is where the Tab A7 Lite lines up in the size comparison. It's taller, although slightly narrower than the iPad Mini 6. The size is almost acceptable, but the lack of OLED and weight, along with the limited performance, make it less than optimal.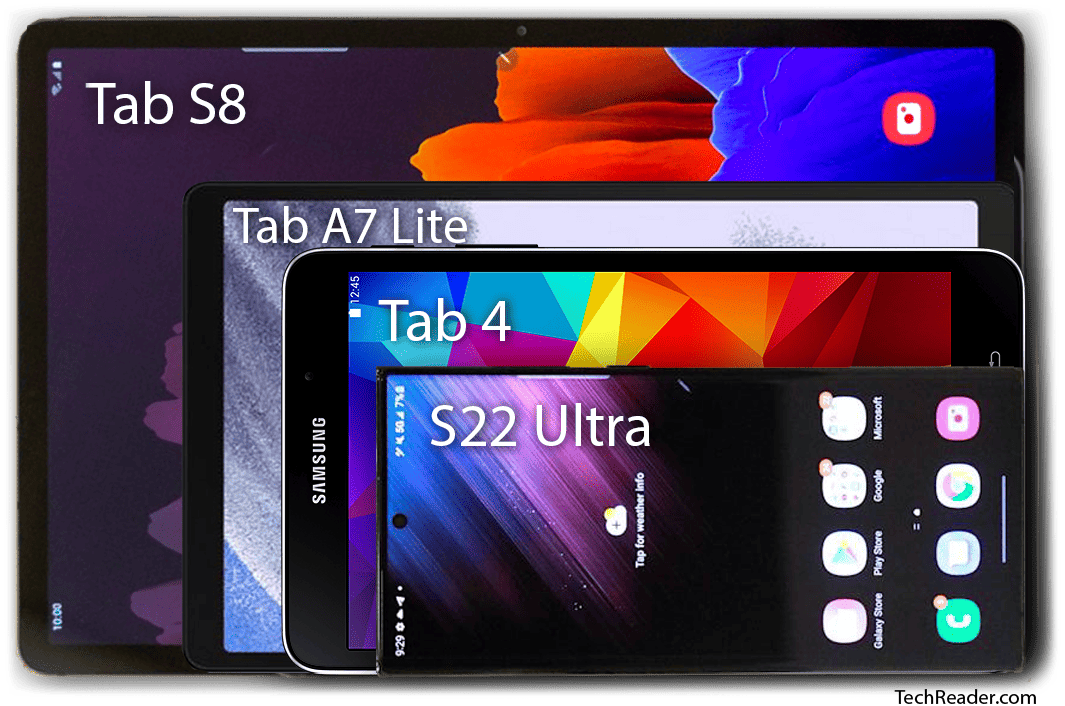 No modern Android mini-tablet with OLED?
In my quest for the best OLED mini Android tablet in the form factor of 7-8″ on the market, I was forced to buy an old device from 2016, the Galaxy Tab S2. That's right, the Tab S2. That old device. And let me tell you how much I love it. The rich OLED display is higher resolution than my brand new Tab A7 Lite. The resolution is much higher and crisper, resulting in a dramatically better reading experience. But the real kicker? The weight. It's as light as a smartphone, and as thin as one too. Holding it is reminiscent of a newer iPod Touch. It is so lightweight, it is exceptionally easy to hold.
The downside? Well, first let me say that the 2016 Tab S2 checks every box that is possible, and in my opinion is the best mini tablet in existence in 2022. But this device was manufactured in 2016, and its performance shows its age. You would also be hard-pressed to find a new one, because it's discontinued.
The Tab S2 is perfect for reading, but is not near as portable as my similarly old Galaxy Tab 4 (which is now too ancient to use), because its 8″ screen is just too wide. I could fit the old Tab 4 7.0 in my pocket, but this Tab S2 is quite a bit wider and that's not possible. As a result, it does not feel very portable, even though it's easy to hold.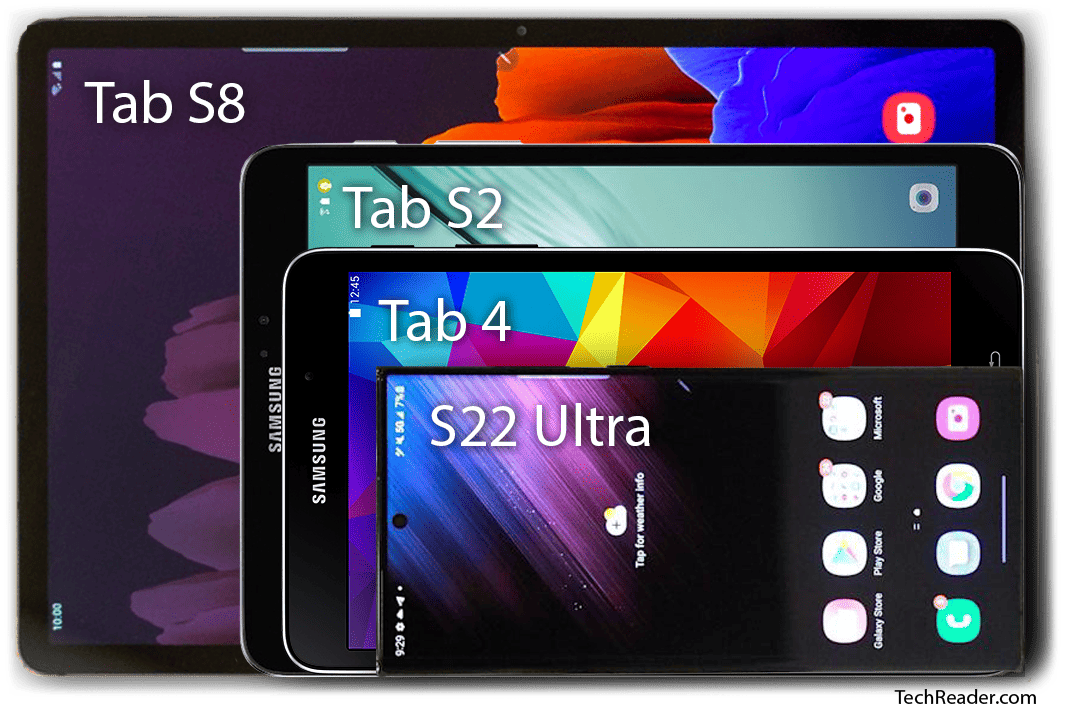 As shown above, you can see how the Tab S2 compares to the others. It's almost exactly the same size as the iPad Mini 6. The iPad Mini 6 weighs in at 297 grams, while the older Tab S2 is a bit lighter at 265 grams. But considering the performance difference, if you're willing to go with Apple, then the iPad Mini 6 is the better device. But for Android, the old Tab S2 is the best you can get for a small OLED tablet today.
That brings us to the performance. The Tab S2 is slow compared to its modern rivals. While this doesn't affect reading a book, it does affect most other things. It can still be used for casual app use, or even maybe casual gaming, but nothing serious. Other issues include the old technology, meaning it still charges slowly on micro USB, and doesn't have fast-charging or wireless charging.
Nonetheless, for me, the Tab S2 is now my dedicated e-reader, because I love the Moon Reader+ app as my e-library, which is only available on Android, and my massive ebook collection needs a microSD card. The iPad Mini won't meet my needs here. But I still dream of a better tablet, one with this quality of screen, but in the goldilocks zone between this Tab S2 and the Mate 20 X. With 8+Gb of Ram, a minimum of 128GB internal storage, and a modern processor and GPU, all with the same weight.
There's no reason not to have a flagship Android mini-tablet with OLED
You might think, well you can't have your cake and eat it too. Actually, you can. Modern smartphones like the Mate 20 X prove that you can have a 7+" display with all the benefits of modern performance, even expandable storage, USB-C, fast charging, 8GB RAM or more, a modern flagship processor and GPU, and OLED, all with the weight of a smartphone. If they made a device with the same performance, but just a tad wider (but not too wide), it would be the perfect tablet. Nothing could compete.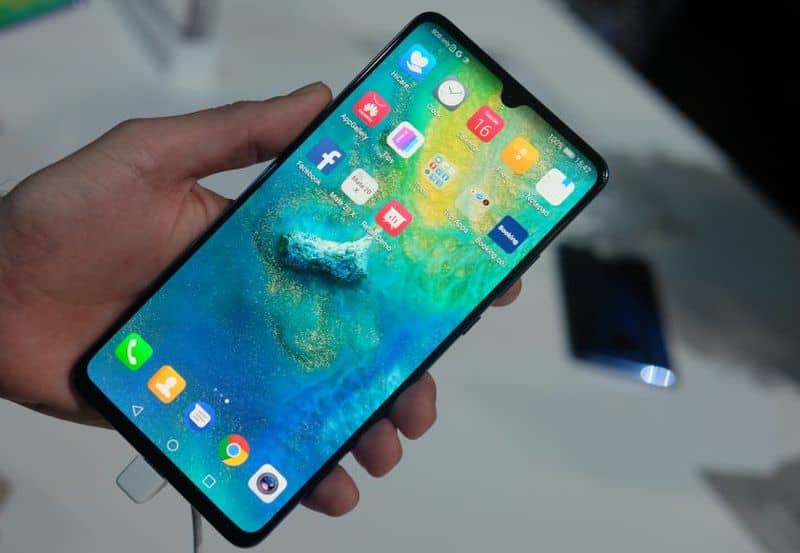 Mate 20 X. Source: Trusted Reviews
Enter: the foldable smartphones
So, why don't they do it? A probable reason is because they are trying to sell their foldable phones. Imagine if they developed the perfect tablet like above, which they have all the technology and ability to do. They would probably sell millions of these.
But, in so doing, it would eat into the profits of foldable smartphones, which are gimmicky, overrated, and have that annoying crease down the middle. Not to mention their ridiculous prices going up to over $3,000. Truly absurd. So, the reason we don't have the perfect mini tablet in 2022 is because they want to sell you a foldable smartphone for thousands of dollars that's too thick, heavy, and annoying to be practical.
This Galaxy Z Fold 3, for example, was rated by PhoneArena as the best foldable phone in 2022. But there's a big, big problem, and that's the price. At nearly $2,000, the prices are getting absurd, and for this price, you get to have a really thick phone or a tablet with a big crease down the middle. This is both annoying, and limits the lifespan of the device. And at this price, it is simply not practical.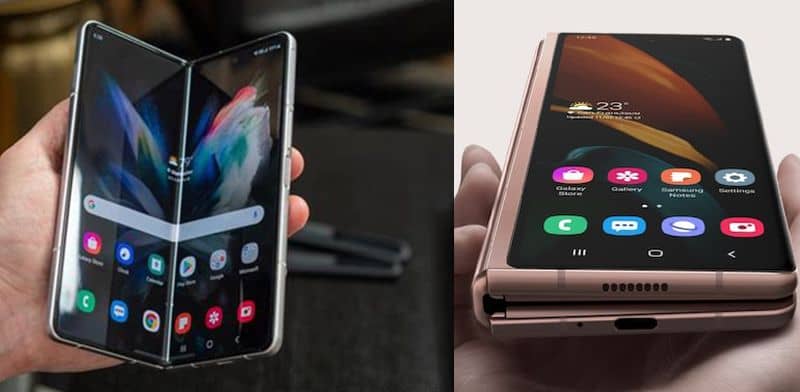 Galaxy Z Fold 3
Maybe these problems with foldable phones will improve. Perhaps they will eventually get us a foldable paper-thin smartphone that will have the benefits of being small and lightweight, plus the benefits of being unfolded into a decent-sized mini tablet whenever you need a better reading experience. Perhaps the prices will drop dramatically, and then we get the best of both worlds. But until that day comes, we can only dream.
Share this:
Welcome my friend, Helper Cat says you need to register for that! :)