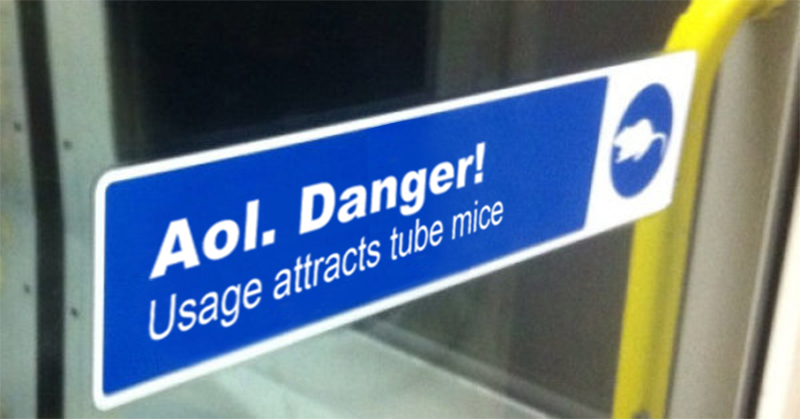 AOL Mail is no longer a safe place to use email or to use as an OpenID endpoint – and that includes past and old accounts you may have. While AOL mail lost the majority of new email signups when they began requiring a real phone number for all free email accounts, now they have begun permanently deleting all accounts which have not been active over the last 180 days. If you have not logged into AOL mail recently, it may be too late.
We saw a need to make an entire article about this due to the urgency of this problem. If you have any OpenID which used AOL mail and you have not logged into AOL within the last 180 days, then not only will your account be deactivated as before with a requirement to login and reactivate; now, AOL will simply delete your whole account and all your data if you have not logged in within the last 180 days.
Here is a quote from their website:
After 180 days of no activity, your account will be permanently deactivated and any saved data will be deleted. Once this happens, there's no way to retrieve this info and you will need to create a new account to continue using AOL Mail.
If you do not log in for 90 days, your account will deactivated which means any mail sent to it will bounce. You will not receive any mail to the account. If you do not log in for 180 days, then your account will be terminated and all emails, data, and information will be irreparably destroyed with no recourse and no way to recover your data. It will be gone forever.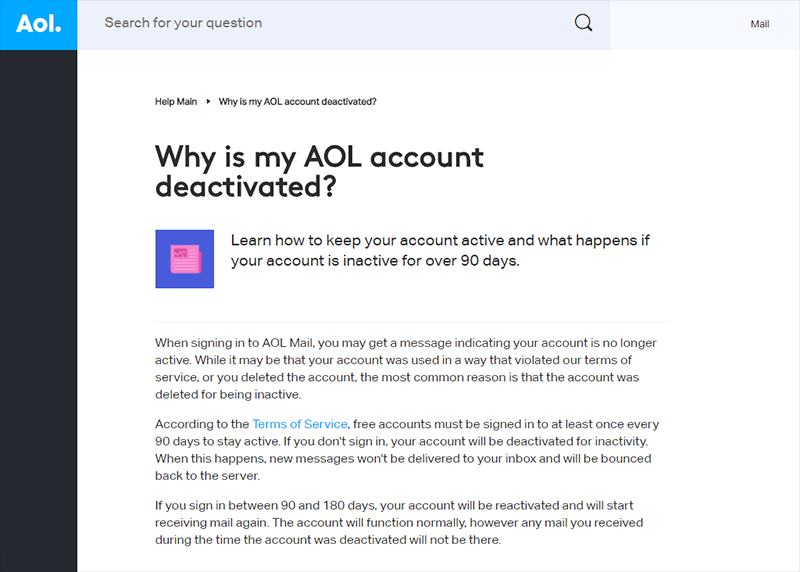 Perhaps you were traveling out of the country for college and did not have access to your AOL email for a few months. Perhaps you have an old StackOverflow account which you used AOL Mail as an OpenID endpoint, and haven't used it for awhile but wanted to do some more work on it or use it for your resume. Perhaps you got married or had a child, or some other life event that caused you to not log into your account for a little while.
Whatever the reason you didn't log into your AOL account but still need your emails or data, unfortunately, AOL does not care and you are out of luck. AOL has deleted your account without recourse.
Now I have to go back and try to think of any other services that I may ever have signed up for using an AOL email or AOL OpenID within the past 10 to 15 years, to try to see if the accounts are lost forever or if I can recover them and change away from AOL before it is too late.
Because I was worried about gmail privacy concerns, I also had used an AOL account for lastpass, an old ebay account which I may want to use at some point in the future, a linkedin account, and a credit card and credit monitoring service.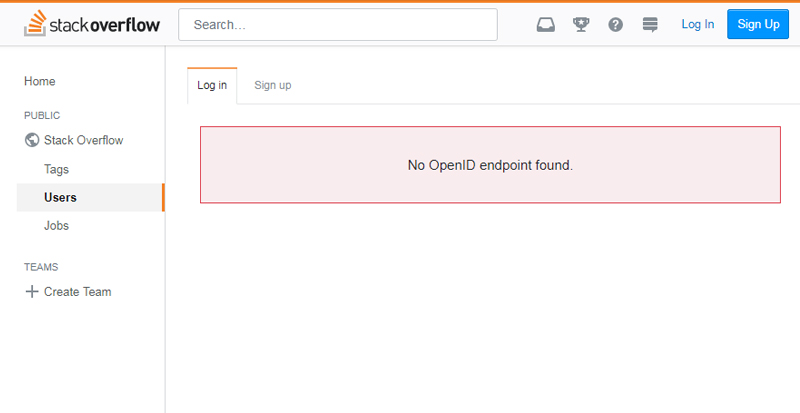 Unfortunately when I moved this past year I had let an AOL account used for an OpenID signin go inactive, and now I have lost access to it forever. Years of StackOverflow data across many linked Stack sites is now lost forever because AOL has terminated my email account for no reason at all except that I did not log into their email service within the last 180 days.
If you were ever considering using AOL mail as a free email account or an OpenID endpoint to log into another service, be warned, it is not safe and you risk losing all your data if you are a normal human who has life events and happen to not log in for a relatively short time.
In that case, you can look forward to this golden nugget the next time you try to log in to access your account or try to use your AOL OpenID.
Aol.
Uh-oh…
This account has been deactivated due to inactivity, but we would love to welcome you back! Click Sign up below to create your new account.
If they think users would trust them with another account after they violated your trust and obliterated your account and all data due to inactivity, they are completely delusional.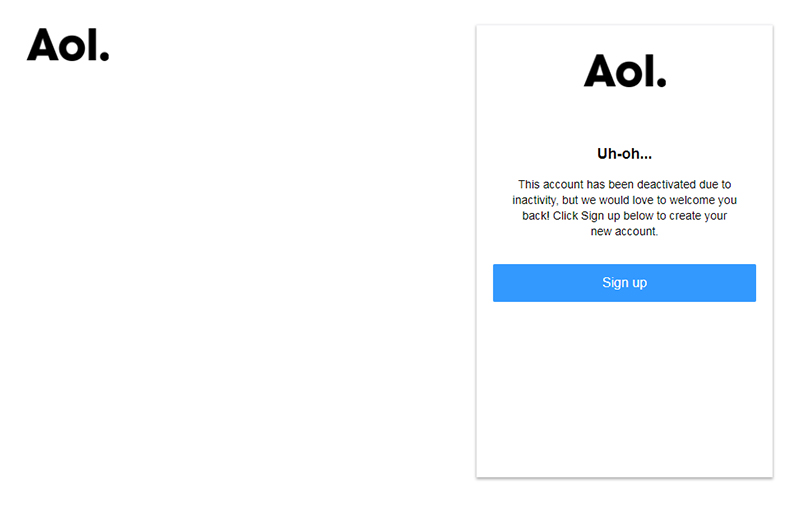 If you have any old AOL email accounts, whether used for past email or used for OpenID endpoints, we urge you to log in and get all your data if it is not already too late, or change over your OpenID to a safe service which will not cause you to lose your account forever.
You can download all your mails to another account by using IMAP or POP3 in your other email account and using your Aol signin. (IMAP or POP3 only works if your Aol account is still active.) If you have any OpenID AOL logins, be sure to change the account login to something other than AOL if it is not already too late.
180 days is completely unreasonable and AOL is the only service that I know of in the world with such an aggressive account deletion policy. For a services like email and OpenID which are often used infrequently, such a policy is absurd and outrageous.
This is a horrible company policy with reckless disregard for their customers. After doing some more research, these changes are probably due to the fact that Verizon bought AOL in 2015, which is around the time that AOL began demanding a phone number and aggressively deactivating accounts. It seems that Verizon is intentionally trying to gut AOL – or if not, they are horribly mismanaging the company. Goes to show what happens when an internet company is bought by a mindless behemoth.
Don't let this happen to you! If it did happen to you, we are sorry and hope that you find a better and reliable email or OpenID service in the future. Feel free to share any horror stories with AOL services in the comments below!
Share this:
Welcome my friend, Helper Cat says you need to register for that! :)