Tesla CEO Elon Musk now owns a controlling share of 9.2% of Twitter. What will this mean for for the future of the company?
That's right, your favorite Big Tech billionaire Elon Musk, CEO of Tesla and SpaceX, is now the largest individual shareholder for one of the largest Silicon Valley Big Tech companies in the world, Twitter. This doesn't mean that Musk owns the company, but it does mean he now holds a controlling interest in the company. What this means is that Elon Musk alone holds the largest individual influence on voting for corporate actions, meaning that he can have a major influence on the future and direction of the company. This is on top of the recent statement that Musk is "seriously considering" building his own social media network.
Musk began collecting Twitter stock in January of 2022, and has already accumulated a majority share of the company at 9.2%, worth $2.89 billion as of the recent Twitter price. As a result, he is now set to join the Twitter board of directors. For reference, former Twitter CEO Jack Dorsey, which is stepping down from the board in May when his contract expires, only owns 2% of the company.
Regulations state that investors must file paperwork with the SEC when acquiring more than 5% of a publicly traded company, and they can do so either by stating their intent to take a passive or an active role in the company. While Musk originally filed the form 13D, which menat he was a passive investor, Musk refiled the form 13G instead of 13D on April 4 2022, indicating he plans to take an active role in the company.
This activity follows Twitter polls just two weeks earlier where Musk asked his millions of followers if they think that Twitter is stifling free speech. The poll results indicate that the overwhelming majority of Twitter users believe that the platform is against free speech and is actively working against free speech on the internet, and that the vast majority of users care about their privacy. Millions of votes were cast on several polls, showing the overwhelming negative sentiment against Twitter for their accused Big Tech censorship, including the President of the United States, Donald Trump, who was banned permanently from Twitter in early 2021.
Musk tweeted, "Free speech is essential to a functioning democracy. Do you believe Twitter rigorously adheres to this principle?", and followed with "The consequences of this poll will be important. Please vote carefully." Over 70% of users said No, indicating they did not believe that Twitter was free speech.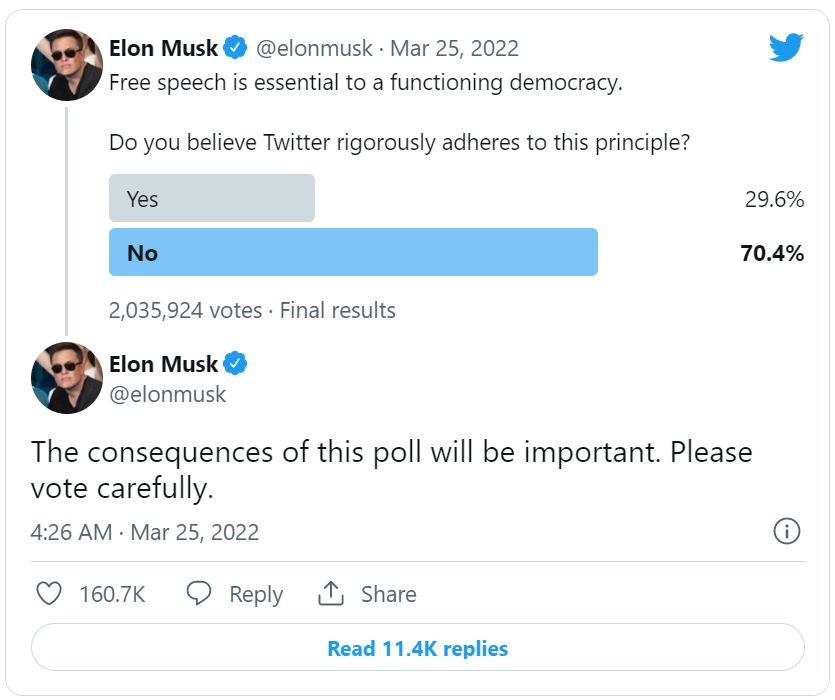 Other recent polls included "Twitter algorithm should be open source", of which 82.7% said Yes, indicating a landslide public consensus in favor of an open internet and free speech, and "Do you want an Edit button?" in which users voted 73.6% Yes, indicating that users care about their privacy and want the ability to control their own data.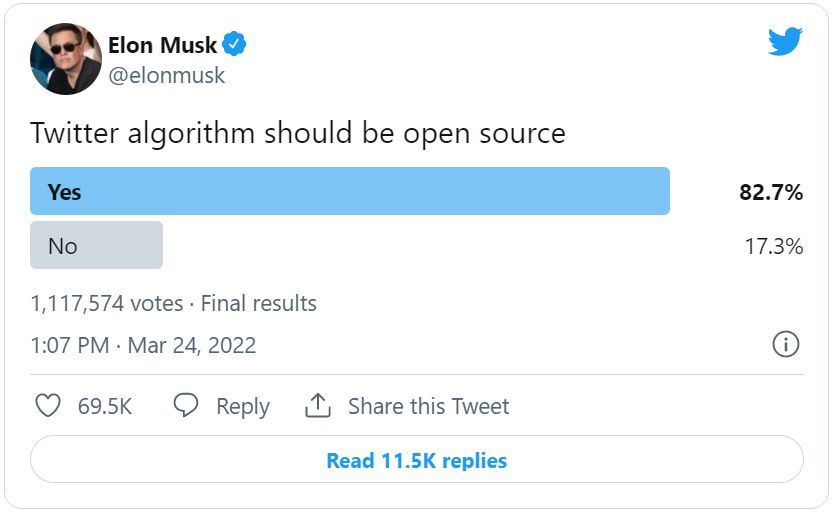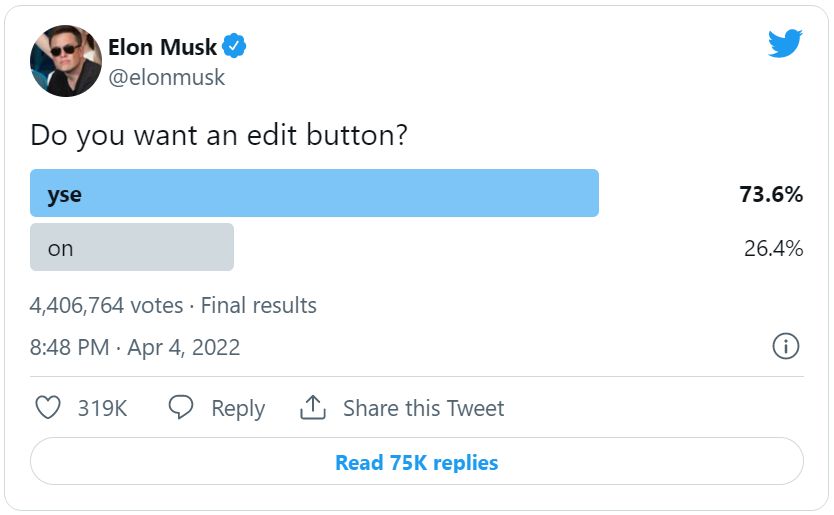 This is big news because as Twitter is one of the short list of Big Tech which has been accused of stifling free speech for a political agenda, Musk has been largely outspoken proponent of free speech and has railed against Big Tech censorship for years. Some Twitter employees have allegedly resigned over the news, while other state they are "terrified" of what it would mean for the company. Conversely, more privacy-conscious users and commentators have speculated that this could reign in a new era in the direction of the company, possibly changing the trajectory to allow less censorship and more free speech – but this is merely speculation.
In reality, even though Musk owns over 9% of the company and could own up to 14.9%, the other top shareholders collectively own nearly 30% of the company, which means that they can still collectively outvote Musk on major decisions. Vanguard Group, Morgan Stanley, BlackRock, and State Street Corporation make up the other 4 out of the top 5 shareholders for Twitter, and all these companies also own one another, making their multiple positions in line with each other.
For example, Morgan Stanley's top shareholders include Blackrock and State Street Corporation, Blackrock's major shareholders include Vanguard Group and State Street Corporation; and State Street Corporation's major shareholders include Vanguard Group and BlackRock. Moreover, the minority shareholders of these four are mostly also owned by these same institutional investors, so effectively they are all owned by the same company – The Vanguard Group.
It is worth noting that The Vanguard Group and the investment groups that Vanguard has a controlling interest in (mainly BlackRock and State Street Corporation) are also majority shareholders of almost every corporation on Earth, including all of Big Tech (including Microsoft, Apple, Google, Facebook, etc), and every brand name you can think of (Nike, McDonalds, Walmart, etc). So, it is not surprising that they also are major shareholders of Twitter.
This effectively gives the other four top shareholders collectively the largest share of ownership of Twitter at 28.57%, meaning that Musk's influence is still somewhat limited at the current rate of ownership. It doesn't entirely negate his position either though, since the other shareholders are not completely unified, even though they are all owned by each other. Add to this the public figure aspect of Musk, that he is the most famous of all of them by far, and is also one of the most famous people on the planet. This makes his public influence a major advantage for him in determining the direction of the company.
Big Tech declining over censorship and privacy concerns
Big Tech is currently facing a crisis as users continue to flee Twitter, Facebook, and other Big Tech platforms for alternative platforms like Parler, Minds, Gettr, and Gab. These alternative platforms have millions of users, and are eroding Big Tech's influence. Twitter's growth is slowing and income is declining in some markets, despite the recent 20% boost upon the news that Musk is the majority shareholder. Even Facebook is losing users, indicating that users are beginning to move away from Big Tech, possibly as a result of the ongoing privacy and censorship concerns.
In a study conducted by the Pew Research Center, the overwhelming majority of US adults believe that social media sites are intentionally censoring political opinions. The study shows that most users believe that social media companies should not be labeling information as "inaccurate or misleading", which has been an increasing trend in social media in recent years. Most users also are not confident that social media companies know the right things to censor, even if they think some things should be censored.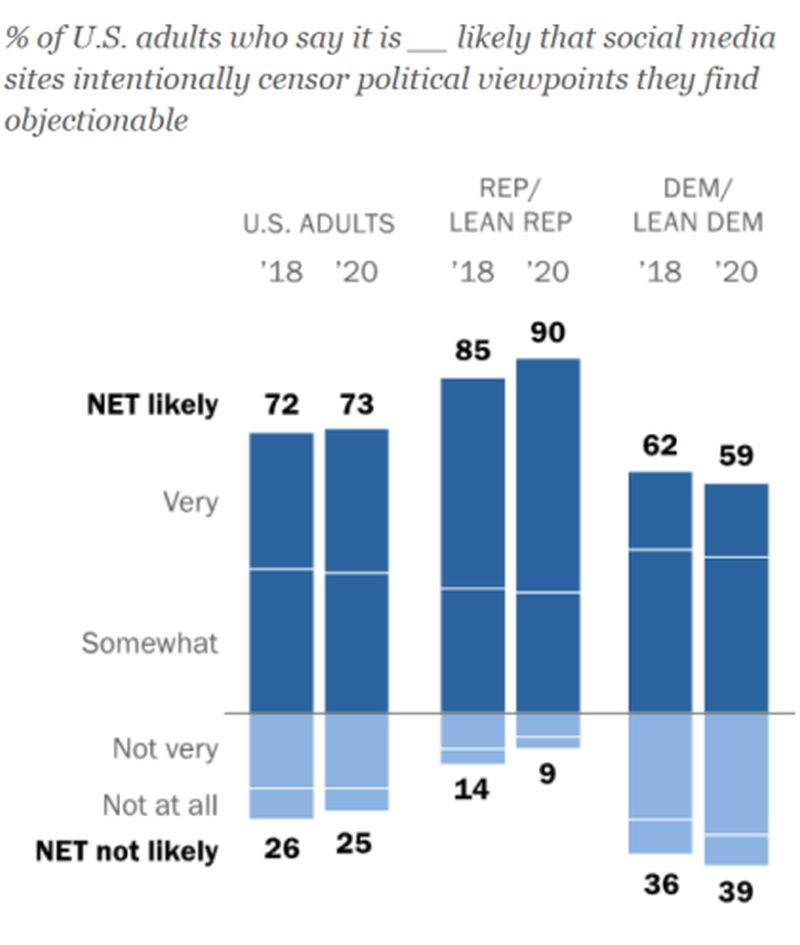 Additionally, a recent Verizon survey found that 81% of users are more concerned about their privacy over last year, and 69% may have deleted a social profile recently amid privacy concerns. Another survey by Censuswide on behalf of ProtonVPN, showed that 25.8% of social media users surveyed had been part of a data breach, and of these, 42% was through social media. This indicated that social media is the largest target of data breaches, and is causing significant concern among social media users.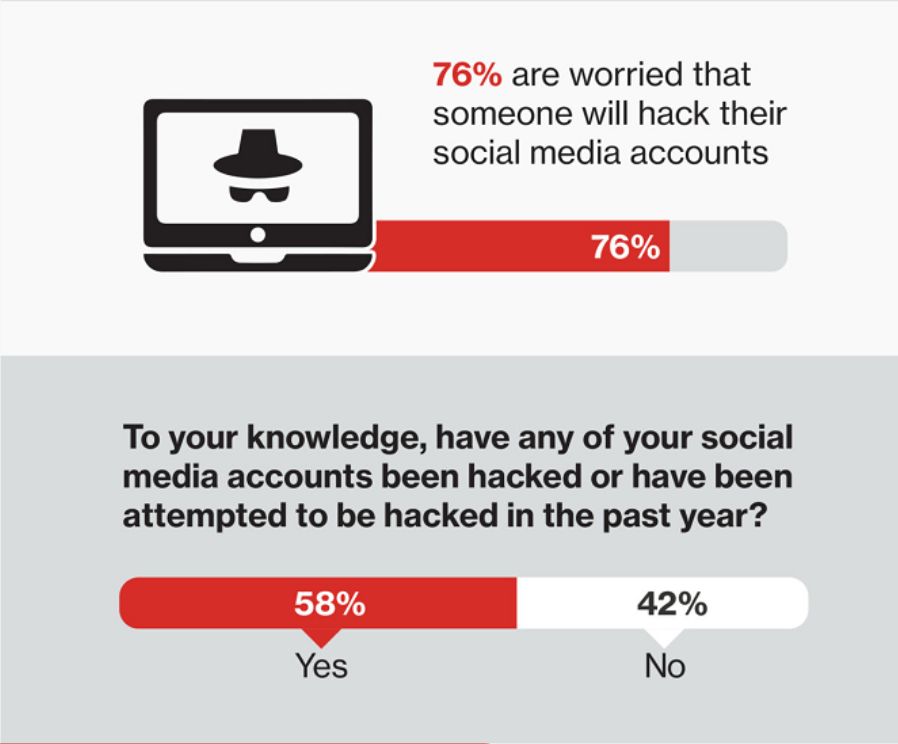 What will all this mean for the future of Twitter? It's impossible to know for certain, but it's clear that Musk will take an active role in Twitter, based on his recent SEC filing. He may take an offer to be on the board of Twitter for at least 2 years, and he is the largest individual shareholder, and may continue buying more. His indication that his recent polls "will be important" suggest that he may use public opinion of free speech to influence Twitter. And his outspoken nature against tyranny and censorship indicate his role in the company may reverse the trend of Twitter censorship, and this could change the trajectory of Big Tech.
---
Update: Elon Musk Files Offer With SEC To Buy Twitter For $41.39 Billion.
Update: Vanguard Group upps their shares to 10.3% regaining the top spot.
Update: on April 25, the Twitter board accepted Musk's offer to buy Twitter and take it private. The purchase is not yet complete, it will still require shareholder and regulatory approval.
Share this:
Welcome my friend, Helper Cat says you need to register for that! :)