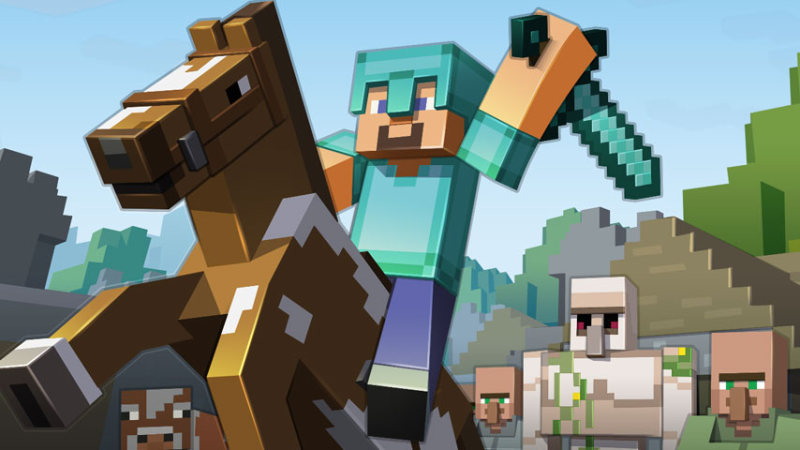 Great things are coming to the world of Minecraft.
A new update for the open world sand box game was released today and is said to feature a female playable character, new music, 30 new unlockable achievements and even a Simpsons skin for PlayStation players. The Simpsons skin includes the entire Simpsons clan, along with Grounds Keeper Willie, Principal Skinner, and music teacher, Dewey Largo. The skin was already previously released for Microsoft systems at an earlier date.
As for the female character, her name is Alex and users will now be given the option to play with her if they choose to start a new game. Alex is said to have thinner arms, redder hair and a ponytail; and will be the first female playable character in the history of the game. Wow! That's a lot to be excited about if you're a Minecraft fan.
A post was found on the Mojang website that detailed the update for Minecraft and why they decided to finally put a female character in the game. "Jolly old Steve doesn't really represent the diversity of our player base. For that reason, we're giving all players opportunity to play with an Alex skin instead," Owen from the Mojang explains.
While not a huge fan of the game that involves building things out of blocks for hours and hours on end, I still think it is great that Mojang wanted to diversify their player base and allow girl gamers to get in on the fun, with a playable character of their own. Hopefully the next step is full on customization for the characters so gamers can spend time making their character look as much like them as possible.
As for The Simpsons skins that are now available for PlayStation players, I think it would be pretty neat to get roam the world of Minecraft as Bart Simpson. This even makes me want to give Minecraft a try, despite the fact that the last time I played the game, I summoned over 100 Ender Dragons and ran for my life. Luckily, it was on my friend's account, so it didn't hurt my progress at all.
What do you think of Minecraft's newest update? Will you being playing as Alex in the near future? Or will you choose to play as one of The Simpsons characters instead?
Share this:
Welcome my friend, Helper Cat says you need to register for that! :)