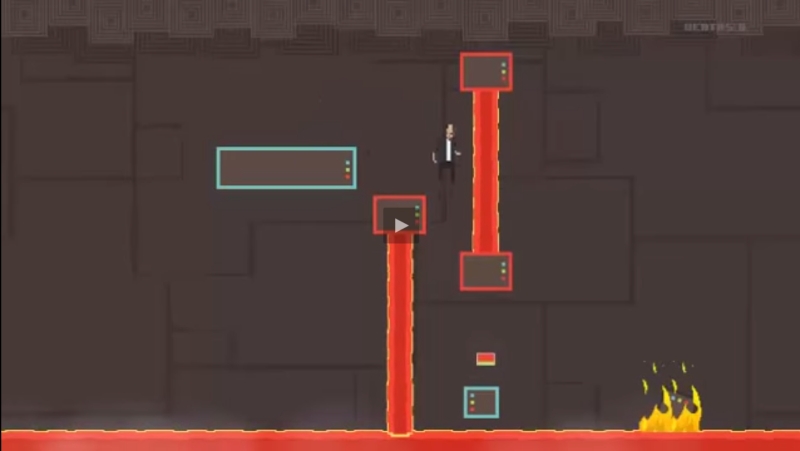 In an age of Call of Duty and Skyrim, modern games often tend to focus more on graphics than game mechanics and gameplay. That said, of course modern graphical games have their merit, and ultra-realistic graphics are pretty cool too.
However, with the age of ultra high realism, game developers seem to be moving away from the basic game mechanics, and games are more like playing a real-life character than about strategy. It seems that with so much focus on high graphics and realism, game developers don't have the time or energy left to focus more on gameplay.
It is refreshing to see the advent of indie games like Mechanic Watermelon. We are in one of the coolest times in history, when building games out of your home is possible, and propagation and marketing for your game is free. Through venues like Android, iOS, and the Chrome Web Store, anyone can create a game.
Mechanic Watermelon is a recent game in the Chrome Web store, released just two weeks ago on July 2, 2015. It already has a nice almost 30,000 user base. The game features a pixelated guy in a suit who has to avoid various obstacles and enemies to reach the goal.
There is no shooting (so far as I have played into the game), just press spacebar to jump, and right and left arrow keys to move. The length of time you hold the spacebar and arrow keys depends on how high and how far the guy moves. It is critical to get the timing right in order to perform the various tasks to reach the goal.
Despite the lack of a developed storyline, it is truly fun to play. It is also highly original and with each new level there are more complex and new enemies, obstacles, and environments. It's unusual to see a game with such originality and creativity. Not only that, but it's completely free!
Many people in the comments on the official game page on the Chrome Web Store are talking about how hard this game is. Some people couldn't pass a level with less than 200 deaths, although I found that I could pass most levels with less than 50 to 100 deaths the first time around.
However, I accidentally reset the game about 15 levels in, and found that I could get past the levels I had already beaten with only between 5 and 20 deaths. As a result, I created this scoring chart to gauge how well you did, since there is no official scoreboard (yet).
---
SCORING: HOW WELL DID YOU DO?
On FIRST TRY (besides the first few intro levels):
<25 deaths = SUPERSTAR WOW!! :D :D :D
<50 deaths = Awesome Job! Wow! :D :D
<75 deaths = Excellent job! :D
<100 deaths = Great Job! :)
<150 deaths = Eh, OK. Not great. Lower than Average. :|
<200 deaths = Come on, you could do better :/
>300 deaths = Bad 🙁
On SECOND TRY (after you came back from advanced levels):
0 deaths = SUPERSTAR WOW!! 😀 😀 😀
<5 deaths = Awesome Job! Wow! :D :D
<10 deaths = Excellent job! :D
<25 deaths = Great Job! :)
<50 deaths = Eh, OK. Not great. Lower than Average. :|
<75 deaths = Come on, you could do better :/
>100 deaths = Bad 🙁
---
There are some major features lacking from the game however. The fact you cannot save your progress makes it highly problematic because no one wants to play forever or keep the window open forever. Save is a mandatory feature for a progress-based game like this.
Also, as I mentioned before, the lack of a scoreboard leaves something to be desired. It would be nice to be able to track how you did the first, second, third try, etc. Additionally, it would be nice to have a global scoreboard to compare how you did against others around the world.
There is a minor bug however. On some advanced levels there are minor bugs that make it impossible to beat the level on some tries. For example, on the first ghost level, about half the time it is not possible to pass the block that moves up and down, even if you used perfect timing. So you have to do it several times before it is possible to beat when this happens, which significantly extends your amount of deaths to beat the level. Keep that in mind when using the scoring above; in buggy levels you might want to double the score range to rate how well you did.
Overall, it is a great, original, fun, and highly addicting game. I definitely recommend trying it out! Although, probably a good idea to make sure you have at least an hour or so to play, since you can't save the game.
Don't get too frustrated when you can't figure something out. It's not timed, so just take a moment to study the environment and see what you could do different. Have fun!
---
Summary:
THE GOOD:
Excellent game that focuses on game mechanics, not graphics
Highly challenging
Original and creative
Addicting and fun to play
WHAT'S LACKING:
Save game option
Scoreboard
Global scoreboard
Social features
---
Check out Mechanic Watermelon on the Chrome Web Store:
https://chrome.google.com/webstore/detail/mechanic-watermelon/fbecpajdliognangadmllfadblgimefn
What do you think about this game? Are you going to try it? What features would you like added?
---
Mechanic Watermelon Official Game Trailer:
Share this:
Welcome my friend, Helper Cat says you need to register for that! :)