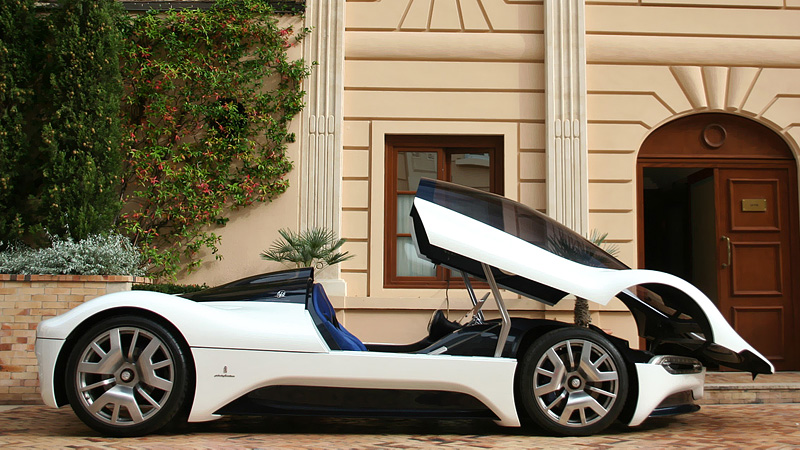 Maserati Birdcage 75th Anniversary Edition Pininfarina
Built in 2005, this carbon fiber and glass insane futuristic concept car has always been one of my favorites. It truly does have a cockpit and opens like a jetfighter. There are no doors; in fact, the roof opens up as a bubble canopy and so does the rear end to access the engine.

This car was made as a concept by Ken OKuyama and Pininfarina, and even a documentary was made about its 6-month design and manufacturing process called "Sleek Dreams". Unfortunately, however, due to some contention with Pininfarina, the car never reached production. There was at least one known actual car however, and it may be the only one in existence. Sadly, it does not contain any heat or AC, so it can be quite hot to drive in. Quite an oversight by the design team.

Nonetheless, even though there may be no AC, you will still turn heads with this stunning car of the future. Its expected price point was originally 3 million dollars and although it can't be found on the internet now (not even Wikipedia), I remember reading how they planned to make it as a build-to-order – that is, they would only make it when someone bought one. Understandable due to the high price. Since there may only be one in existence, it may be next to impossible to acquire one, but if you have the money and the means, this beauty is estimated to put you back an easy 2.5 million dollars.

Most of the specs for this car were never officially released, and some specs such as miles per gallon can never be officially tested; but it is estimated to have about 700 horsepower. Since it is built on the F140 V12 engine from the Maserati MC12 and Ferarri Enzo, we can estimate that the specs will be almost identical; except slightly better since the engine has been specifically tuned for the Birdcage. With this info, we can make a very good estimate that the Birdcage 75th has an acceleration of 0-60 in a lightning-quick 3.2 seconds, and a city mpg of only 7 and a highway mpg of 12. A mere 7 mpg is no big deal to you though since you can afford a few million to buy the car.

The Maserati Birdcage 75th got its name from the 1960s Maserati Birdcage series of cars which were actually named Maserati Tipo 60, 61, 63, 64, and 65, true racecars. James Bond has nothing on this elegant and aggressive mix of a racecar and a jet fighter; this is more of a Top Gun kind of car. Not to say I don't love Aston Martin (I do) but come on, this Birdcage is one of a kind and there is nothing else in existence that can compete with this grand style.
Maserati Birdcage 75th Anniversary Edition Pininfarina Photos
Share this:
Welcome my friend, Helper Cat says you need to register for that! :)